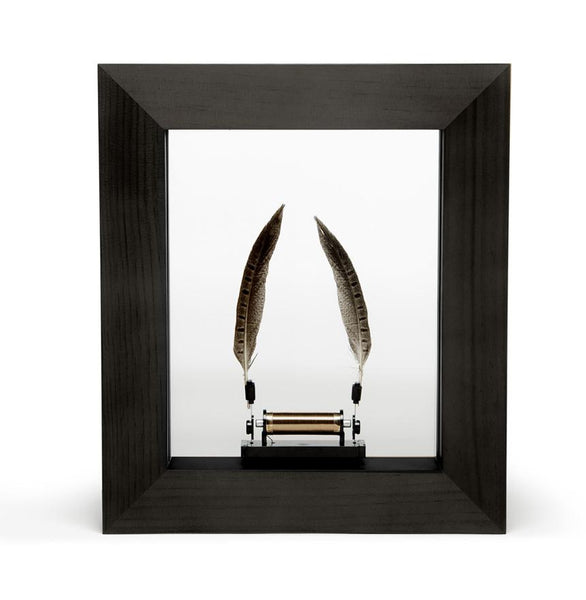 Slow Dance - Ebonized Ash
By Jeff Lieberman
"Slow Dance" is a picture frame that makes real objects appear to move in slow motion. By taking advantage of the limits of human visual perception, this optical illusion sculpture appears to be doing the impossible — right before your eyes. Slow Dance combines technology, science, and art, in order to remind us of the natural mystery, beauty, and wonder that surround us every day.
$449.00
Ways to mount:
Standing
With feet
Wall mounted
Free delivery on US orders
Original design
1-year warranty
Slow Dance makes things move in ways you never thought possible. For all those who love mystery, beauty, and wonder.
In this mode the object appears to move in slow motion.
The object appears to move in ultra slow motion.
Looks like the object starts as one, and splits into two parts before reforming.
The object looks like it jumps through space, like a 1930s slow motion movie!
SLOW DANCE
In this mode the object appears to move in slow motion.
SUPER SLOW DANCE
The object appears to move in ultra slow motion.
DOUBLE TROUBLE
Looks like the object starts as one, and splits into two parts before reforming.
POP AND LOCK
The object looks like it jumps through space, like a 1930s slow motion movie!
AS SEEN ON
"This looks like pure magic."
"One for every room in existence, please."
"You want to stare at it for hours."
"Could be the lava lamp for a new generation."
"This slow-motion machine is so stunning we almost don't want to tell you how it works."
"Undoubtedly one of [Jeff's] most impressive creations."
USING SCIENCE TO CREATE MAGIC
Slow Dance combines high speed strobe lights with high-speed vibrations, creating a stunning visual illusion.

With strobe lights blinking 80 times a second, your eyes cannot even see that they are blinking - the light looks continuous.

By synchronising the strobes to the vibration of objects (created with the magnets and central electromagnet), we create the visual illusion of those objects moving in slow motion.
ORIGINAL ART BY JEFF LIEBERMAN
When my closest friend from college Eric was marrying my new friend Emily, I considered it the time to give them a once-in-a-lifetime gift. They were both dancers, and so I immediately thought about creating something where two 'opposites' danced with one another.

I had been playing for years with techniques that allowed me to use high-speed stroboscopy to make things look like they were moving in slow motion. But after weeks of hand-designing dozens of objects that might vibrate in interesting ways, I was stuck — none of them had the wondrous impact I was searching for.

Somehow they didn't surprise me enough as a viewer to create impact. I went for a frustrated walk around the block of my office thinking "What is missing? Why can't I design something that looks incredible to see moving in slow motion?" Lost in thought, a branch hit me in the face. I looked at the branch.It was a Eureka moment.

That pine branch was more beautiful than anything I as a person could design, and had evolved over millions of years to vibrate in the wind. I looked all around the environment — branches, flowers, feathers and more — with a sense of awe suddenly realizing that nature had designed millions of artifacts more beautiful than I ever would. And using what I knew, I could make them look like they were dancing impossibly, in slow motion.
READ MORE
GOT QUESTIONS?
How loud is it?
Incredibly quiet. The loudest thing is the object itself moving through the air, and the magnets can be adjusted to change the 'volume' of movement, so if you make the movement very large, it will create more noise. We can't hear a feather from 10 feet away in a quiet room. For the techies out there, we estimate it's around 30dB.
Is it safe to touch?
Yes! Please touch it! If you touch the objects you will feel the secret that your eyes cannot see - that they are vibrating very quickly (80 times back and forth every second). It's a fun way to discover the illusion. The electromagnet is totally safe to touch as it is all at very low voltage and strength. It's fun for all ages.
What kinds of things can i put into Slow dance
Since the slow motion effect depends on vibrating objects very quickly, light objects that vibrate repeatedly work the best. So far we've found the best things are feathers, plants, and flowers. That said, we've also seen custom origami, bent wire, even googly eyes(!) in the mix, and look forward to many more surprises!
Top 5 things I've ever purchased!
Jeff,
I think this is in the top 5 things I've ever purchased. I could stare at this in awe for hours. It really feels like magic. I just wanted to say what a spectacular piece of work this is, amazing idea, and beautifully crafted and executed. I'd love to hear the backstory on it and how you came up with the idea. What a showstopper and piece to talk about when people come over. Congrats on your success!
Best,
Alicia
Hi Alicia - So glad you are enjoying it. If you want more details on the backstory, I've written up some here on my personal site: https://bea.st/slow-dance . I think you'll like the story, as Slow Dance started as a wedding gift for two friends of mine that are both dancers :)
Be still.
I'm very excited having Slow-Dance in my office. As a Licensed Counselor I have the opportunity of helping people remember how to slow down and find restoration while empowering them to understand that their / our perception isn't always accurate. Having such a powerful visual aid as Slow-Dance has been a great addition to my practice and the conversations that it sparks are priceless. Thank you Wonder Machines. Sincerely, a humble Adventure Guide
Everyone asks about it
So i saw the Slow Dance in a Facebook advert a fairly long time ago and thought…… i have to have one. It felt a little pricey so i dragged my feet a bit and it took a few months for me to actually make the purchase. Starting my own business ended up being the catalyst for the move. Our company logo features a black frame so the ebonized ash was so perfect and matched all our furniture. It seemed a little like fate so i pulled the trigger, i figured that this would be our first item of fascination in the lobby.
When it arrived it was obvious it was worth every penny, this really is a piece of art. A moving sculpture that attracts constant attention, encourages conversation and ……most importantly, does exactly what it says on the tin……. its creates wonder for even the most experienced of our guests.
I have been asked for the link to the website maybe 10 times since in the last 2 months of us having one and i cannot see it stopping. Congratulations on a great product and please let me know if you have anything else like this planned in the future.
Br
Mike
Videos don't do it justice
Before ordering my Slow Dance I didn't fully appreciate how stunning the slow motion effect is. Seriously, videos don't do it justice!
The packaging, craftmanship and attention-to-detail are truly amazing! It's become an integral part of my interior and a consistent topic of discussion.
Unbelievable
It's better than it looks online and that's saying something. Totally mesmerising.
Embracing
Such a wonderful product, giving a sense that you are so close to nature. A calmness, everlasting serenity.
Thank you
Amazing
Sometimes you see something and think you have to have it only to ultimately be disappointed when it arrives. That is not the case here. It's an amazing piece of art that I am endlessly entertained with. It's well worth the price and I'm sort of surprised it isn't more expensive. Count me as a huge fan of Jeff and I'm hoping he comes out with something new one day. I'll be a buyer for sure.
Such a special interesting gift
For the person who has it all, this is a unique and interesting gift!
Amazing
I am so glad I ordered the Wonder Machine. We are enjoying using greenery, flowers, different feathers. This exceeded my expectations.
Amazing
Truly incredible pieces of art, I wish more rubber bands were included as they do wear out But that is nit picky, I have purchased 4 of them, no regrets Great gift for someone special